International Sensory Integration Congress 2020
Welcome to the ISIC 2020!
Join us to learn the latest achievements in Ayres Sensory Integration®
July 2020 – Redondo Beach, California
In 2014, a group of international colleagues set forth the Ayres Sensory Integration 2020 Vision — a commemoration of the 100th birthday of Dr. A. Jean Ayres. The vision included three goals for completion by 2020:
Ayres Sensory Integration will have a strong, international presence with demonstrated scholarship; means for valid, comprehensive assessment; and pathways for training to ensure the ongoing development, standards of excellence and effective implementation of this important work.
The International Sensory Integration Congress (ISIC 2020) will showcase the ways in which this vision has been realized, with presentations from eminent researchers and speakers from around the globe.
In addition, we will commemorate Dr. Ayres and her lifework during an all-day celebration on the day that would have been her 100th birthday: July 18, 2020.
We hope to see you in beautiful sunny California,
July 15-18, 2020
for a once-in-lifetime experience!
Registration opens October 12:
See below the price that fits you and act fast to save money with our early bird discounts!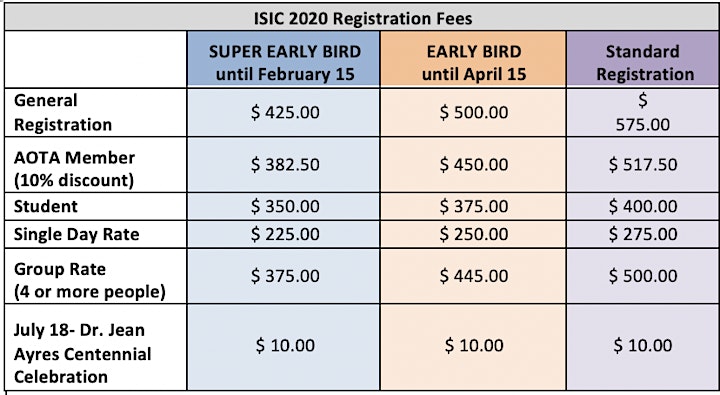 Did you Save your Spot with with a $100 deposit towards your congress registration?
Thank you! Now, keep an eye on your inbox. You will receive an email with instructions on how to register with your $100 code and your print of Dr. Ayres' watercolor work of art will be waiting for you at the registration desk at ISIC2020.
Register early to receive the lowest registration rates. Super Early Bird rates are available until February 15, 2020. Get your tickets now before prices go up and don't forget to add the ticket for Dr. Ayres Centennial Celebration!
The California sun, sand, and Sensory Integration research and practice are waiting for you.
Warmly,